Sharilyn Johnson joins us to discuss Colbert, Kurt Browning, The Cutting Edge and Moxy Fruvous.
(click link to stream or download, or click here to subscribe to us in iTunes)
Sharilyn Johnson is the proprietor of popular comedy resource Third Beat Magazine. She's also got a wicked one-woman show called Fake News Fangirl, which you can see at the 2012 Toronto Fringe.
We kick this episode off with a brief segment of Comedy Bar News and chat a bit about Andy Kindler and Louis CK.
Sharilyn teaches us about the art of the "Colbert Character Break".
She also explains the appeal of the intersection of ice skating and clown, via one Kurt Browning. If you're in Toronto, be sure to check out Lunacy Cabaret for a sweet dose of (non-scary) clown performance and general whimsy.
Natalie is obsessed with Sarah Hughes. Catherine's parents know each other (their dads played hockey together at Cornell).
Natalie also loves The Cutting Edge, though she's admittedly fuzzy on the details.
Sharilyn teaches us a bit about being a die-hard Moxy Früvous fan in her youth. Be sure to listen to the very end to hear the song that Moxy penned just for her! She also shares this magical meetup photo from the 1997 Philadelphia Folk Festival (Shar is middle of the back row):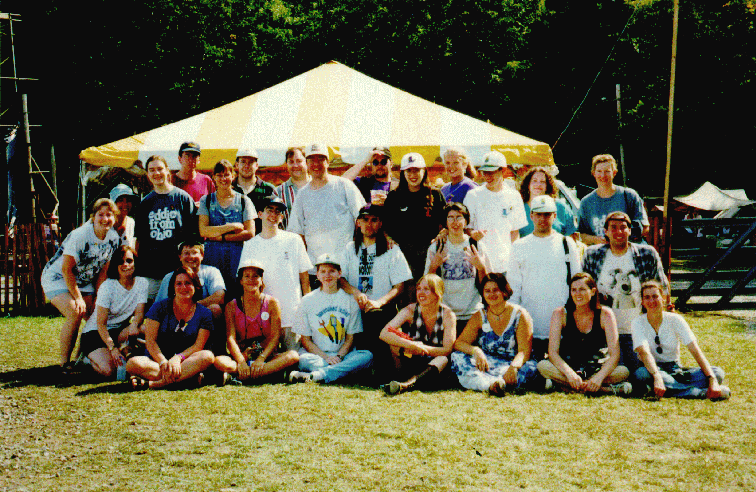 Many thanks to Sharilyn for this fun episode, and as always thanks to Bron Halpin for fixing our audio. Please send your feedback on this episode to our Twitter or Facebook.